Parish Services & Volunteer Opportunities
Aid for friends ministry provides free, frozen home cooked dinners, weekly visits and advocacy to the isolated, homebound elderly in the Philadelphia and Bucks County areas.

If you would like to take part in donating frozen, home coooked meals and support the program as a cook just pick up several aluminum individual containers in the vesting area of the church. Directions are available explaining how to mark the dinners. Then, bring the filled frozen containers to church at any weekend Mass and leave them in the vesting area with the other food donations. The sacristan will put them in the freezer in our kitchen. If you have any questions, leave a message for Tom McGovern, our parish representative, at our rectory.
If you would like to respond to God's call to serve the sick and homebound as a driver and/or a visitor, call Aid for Friends headquarters at 215-464-2224.
Parishioners who clean and polish the church.
The Garden Angels are parishioners dedicated to beautifying all church property to show how much we can honor and glorify our Heavenly Father through the grandeur of nature.
The Parish Food Bank receives donations of food from our parishioners and organizations. We then deliver the food to those in need in our parish and surrounding areas. Anyone who calls for help we do our best to help them.
The Parish Nurses volunteer their time and talents to promote health within the Parish. They sponsor various programs for health and well being. Check the bulletin for more information.
The parish blood drive is run by church volunteers for the American Red Cross twice a year in the Fall and Spring. We are always looking for new volunteers to help out. Any comments or questions please contact Suzanne Hoffman at 215-498-1093.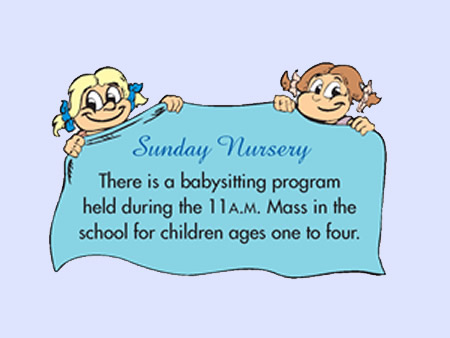 Click here for Nursery Volunteer Schedule.