Liturgical Music Ministries
Director: Kathleen McLaughlin
| | | | |
| --- | --- | --- | --- |
| CANTORS | CHOIR | "GOOD NEWS" GUITAR GROUP | INSTRUMENTALISTS |
Cantors
The ministry of the cantor is to lead those who gather to celebrate the liturgy as they raise their voices in song together. The cantor also proclaims the Responsorial Psalm, and introduces new liturgical music at the appropriate times. Those who feel they may be called to serve our parish as a cantor are encouraged to inquire about this ministry by contacting Director Kathleen McLaughlin at 215-880-7257 or email KMcL924@comcast.net.
Choir
Our parish choir offers beautiful harmony and added solemnity to special celebrations throughout the liturgical year. The group also gathers for two weekend liturgies each month, from September through the Solemnity of Corpus Christi in the spring. During this time, choir practices take place every other Monday evening at 8:00 PM in church. No singing experience is necessary! High school and college students, as well as adults of all ages are most welcome to join us in song, either for the entire September-to-June season, or for a single celebration, such as Christmas Eve or Holy Week.
For more information or to join this ministry, contact Choir Director Margie Crooks at 215-355-7348 or email crks118@aol.com.
May the smile on your faces, the freshness of your voices, and the harmony of your songs dispose you to prayer and arouse in those who hear you the true joy of life and hope for the future. Pope Francis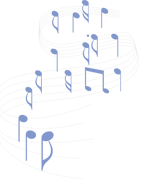 "Good News" Guitar Group
Our founder, Dot Oschell, who went home to heaven, gave the group its name: the "Good News" Guitar Group. "Good News" is taken from the New Testament of the Bible: "Do not be afraid; for behold, I proclaim to you GOOD NEWS of great joy that will be for all the people." (Luke 2:10) We devote our time and talents to make the Mass more meaningful. Dot always said, "When you sing, you pray twice." Our mission is to encourage our parish family to sing joyfully and give praise to God. We commit to attending practice in church every Tuesday evening at 7:30 PM from September through June. The group usually provides the music for the first and third Sundays of each month. We are a very loving and caring "family", and the door is always open to new members who feel called to make the commitment to our ministry.
For more information or to join this ministry, contact "Good News" Guitar Group Director Veronica Schoen at 215-752-7273 or email voschoen@gmail.com.
Instrumentalists
At each parish liturgy, an organist, keyboardist, or guitarist provides accompaniment for our assembly's singing. We warmly welcome adult and student musicians who play an instrument (violin, cello, clarinet, trumpet, flute, piano, guitar or bass) to share their talents with our parish!
For more information or to join this ministry, contact Director Kathleen McLaughlin at 215-880-7257 or email KMcl924@comcast.net.
I will praise the Lord all my days, Make music to my God while I live. Psalm 146</p>